Tears From A Broken Heart (Tile)
Tile Version
Pacific Shard, Season 11, 2013.
7/10/2013 Tears From A Broken Heart (10) a blue tile of the same hue. This is the bugged version, the tile was supposed to look like a bottle. Makes a screaming sound when locked down and double clicked.
On another day they had a clicky for the Tears From A Broken Heart a blue looking bottle (~100)
There have been a Series of Broken Heart Themed Items dropped on Pacific during the summer of 2013: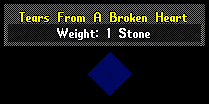 10 of these were originally created.