Tears From A Broken Heart (Bottle)
Pacific Shard, Season 11, 2013.
Tears From A Broken Heart a blue looking bottle (~100) Makes a hysterical screaming sound when locked down and double clicked.
Not to be confused with Tears From A Broken Heart (10) a blue tile of the same hue.
There have been a Series of Broken Heart Themed Items dropped on Pacific during the summer of 2013:
There is 1/1 known of these bottles that does not scream, but makes a smoke effect instead when double clicked and locked down.
During August of 2013, a player known as Pink Ninja Gecko reported that they had one of these bottles, but it became stuck in an altar during an event. He reported this to GMs who told him only an EM could retrieve the bottle. Pink Ninja Gecko then saw Mesanna in Luna, and proceeded to tell her what happened. She created a new one for him, but it does not scream, instead it makes the "smoke effect" when double clicked while locked down.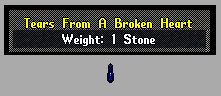 ~100 of these were originally created.
This item is for sale. ICQ Lady Decadence at 111891022.
This item was created as a clicky.