Brave Knight Of the Britannia -Katana
Asian Shard, Season 3, 2005.
Brave Knight Of the Britannia Kantana -Blessed, Ice White
The "Brave Knight of Britannia" is  unique Katana dropped from an EM Event during Season 3, 2005 on an Asian Shard. Later Artifact "Brave Knight of the Britannia" were dropped in Champion Spawns. Those are considered Replicas.
There is also a Unique Version that is also Blessed Ice White, but weaker. This version is known to have been duped.
Then there are the Replica Artifact Katanas.....
The replica "Brave Knight if The Britannia" has Hit Harm, it is possible that the Unique EM Event drop does not have this. The replica is also called Brave Knight of THE Britannia" it is recorded without the word THE in the unqiue, however it may have been recorded wrong. If anyone has this unique Katana, please contact me I would like to verify the name and picture.
Attached is the REPLICA VERSION picture.
Properties of the REPLICA Version include:
Hit Stamina Leech 48%
Hit Harm 26%
Hit Life Leech 22%
Swing Speed Increase 30%
Damage Increase 35%
Fire Damage 40%
Cold Damage 30%
Poison Damage 10%
Energy Damage 20%
Weapon Damage 11-13
Weapon Speed 2.5s
Strength Requirement 25
One-Handed Weapon
Skill Required: Swordsmanship
Durability: 150/150
The Brave Knight Of The Brainnia Set Includes: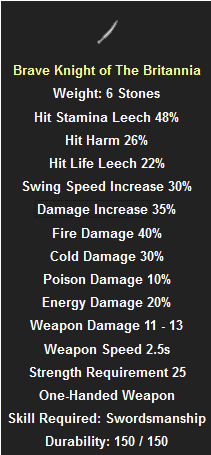 1 of these were originally created.