2010 Britannian Games
Lantern
This lantern was a previously undocumented latern. It is a plain hued lantern that was purchased from Lake Superior shard. Lake Superior shard had 2010 Britannian games, so this lantern is most likely from Lake Superior shard during that same time frame. This might be a unique lantern.
Please let me know if anyone has more solid information.
This lantern is not to be confused with Lake Superior Britannian Games 2010 which is a red lantern of which there are ~21 of.
Hue id: 0 plain
Item id: SYD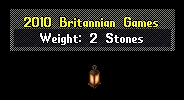 1? of these were originally created.