Skaros' Mask Of Deceit
Magical Door Graphic
Europa Shard, Season 13, 2015
On Feb 8, 2015 ..Skaros' Mask Of Deceit dropped. This item is a light tan hued magical door graphic. However, it does not function like a magical door, instead it only creates a smoke effect when double clicked.
Hue id: 2598
Item id: NPL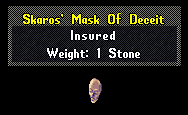 *Thank you Brian (4runnersport) for lending me your item!
20 of these were originally created.