Captured Essence Of Maya
Red with Blue center Version
Napa Valley, SEASON 8 - MESANNA (DARK QUEEN) 2010 UO-WORLD TOUR
Captured Essence Of Maya are two-toned hued items or two colored with the same graphics as the decoration only soulforge. There were *multiple ones that had dropped from the events, however different colors for each.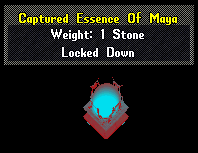 You might also be interested in Captured Essence Of A Rare Black Dragon
*Thank you Sadie for the Pictures!!
2* of these were originally created.