Pelt Of The Fabled White Hart
White Deer Mask
Atlantic Shard, Season 11, 2013
Pelt Of The Fabled White Hart is a white deer mask that dropped during EM Tawerets event on OCtober 24, 2013 11 pm eastern.  EM Taweret spawned rare white harts in random locations outside of towns in trammel. Players hunted these harts down. Each hart dropped one of these Pelt of the Fabled White Hart.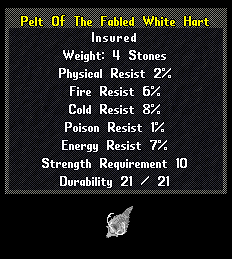 20 of these were originally created.
This item is a brokered sale.