Weather Machine Crystal
Origin Shard, Season 11, 2013.
The Weather Machine Crystal is a two-toned yellow/black hued item, that dropped on Origin during Season 11. It has the same graphics as the imbuing essences.
Makes the sound of thunder when locked down and double clicked.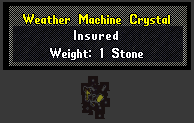 30-35 of these were originally created.