Artifact Of The Pentad (Sandals)
Green Sandals
Catskills Shard, Season 11, 2013
On September 29, 2013 Artifact Of The Pentad sandals dropped during the catskills event, from a Red Drake, while we were looking for the "real" sandals that went with the storyline. Pentad means a group or set of five, which is along the storylines of how many sandals the story has, although so far one has been destroyed.
As of December 2013 this item pricechecks around 200m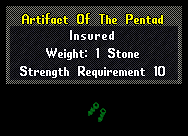 You may also be interested in the Lantern that dropped, also called Artifact Of The Pentad.
10 of these were originally created.