Rift Pillar
Blackrock Pillar
Multiple Shards, Season 6, 2008 - Magincia Invasion
Rift Guardians that appeared during the Magincia invastion stood on top o these Rift Pillars also known as Blackrock pillars. The pillars could be grabbed, however some of them were destroyed, especially before people realized that they should try to grab the pillars. There were Eight per Facet, making a total of 16 of these that spawned per shard.
These are highly desirable and very rare.
Hue id: 1175
Item id: LTAJCPD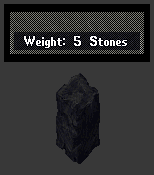 This item is a brokered sale.