An Enchanted Grandfather Clock Of The Time Lord
Europa Shard, Season 11, 2013
An Enchanted Grandfather Clock Of The Time Lord is a beautiful two-toned white and blue grandfather clock. It sparkles when double clicked. This item dropped on September 14, 2013 on the Europa Shard.
Hue id: 1917
Item id: UMBB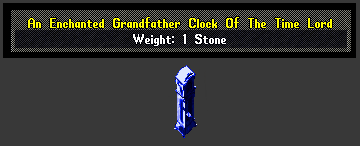 *Thank you Varrius for letting me borrow the item for a picture!
10 of these were originally created.