Thank you [Player's Name] For Contributing In Help Defending Britain
Axe
Formosa Shard, Season 3, 2005
Thank you [Player's Name] For Contributing In Help Defending Britain is a rare axe that was given during an event. The axes were inscribed with the players name. This particular axe shown in the picture was to Y.S.L
The following information was taken from http://www.bricities.com/tuo/s03allkrtw.html.
[Someone]のとこはこのアイテムを貰ったキャラクター名が入ります。
たしかフォルモサだったと思いますが、日本でもおなじみだった対オークの砦を作るための資材あつめイベントで、Logを持っていったら貰えたようです。
この資材あつめイベントは鉱石も必要だったのでもしかしたらPickaxeもあるかも知れません。
ただ、EAコリア管轄下のシャードでオフィシャルシナリオのイベントが行われなかった期間があったようなので、別のイベントの可能性もあります。
This is translated below, using google translate;
Toko of [Someone] Character name got this item is entered . I think it was certainly Formosa , but in materials gathered events for making the familiar was the pair of oak fort in Japan , seems to get if you went with the Log. You might also maybe Pickaxe because this material gathered event ore was also necessary . However , so there was a period in which the event has not been made official scenario in Shard under EA Korea jurisdiction , there is also the possibility of another event .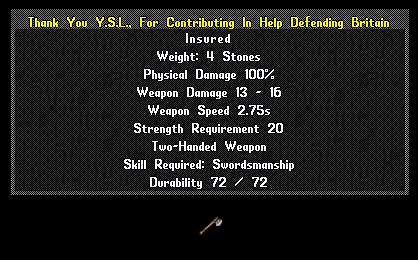 *Thank you Brian DeSpell for lending me the item for a picture!
? of these were originally created.